Driving luxury interior design and architecture in Singapore
Since its founding in 2012, Elliot James Interiors has established itself as a major interior design and architecture studio specializing in luxury residential, hospitality and commercial design.
In recognition of their incredible contribution to the luxury design sector, the Luxury Lifestyle Awards jury awarded Elliot James Interiors the title of "Best Luxury Architect and Interior Design Studio in Singapore 2020". Their winning formula was a combination of insightful design, intelligent planning and dedication to creating and developing client concepts.
Founded by established designer Elliot James Barratt and business and finance expert Tom Ryan, both bring an impressive knowledge of the luxury sector along with the practical aspects of running a successful studio. They began their careers in the design industry in London and had already established themselves in the design community with a variety of projects and awards. Elliot is a member of the prestigious Society of British Interior Designs (SBID), which recognizes professionals of the highest skill level. With this knowledge and passion for the industry, the team at Elliot James Interiorsis well positioned for success in Singapore.
Together with Elliot and Tom, Christina Voss (architect and interior designer) and Laura Sévin (interior architect/designer) offer a multi-faceted, forward-thinking approach, supported by assistant Shereen Banu Binte S.O. Shahul Hameed. The collaboration offers clients the assurance of full support from start to finish, along with an impressive collective of interior and architectural designers.
Elliot James Interiors offers a range of services for discerning clients, from initial consultation and discussion to complete procurement, drawing and project management. By providing a complete service, clients can be assured that they will be dealing with the same dedicated team throughout their projects. This tailored approach is particularly well suited to the luxury sector, where clients can feel they are in good hands regardless of the size of their project.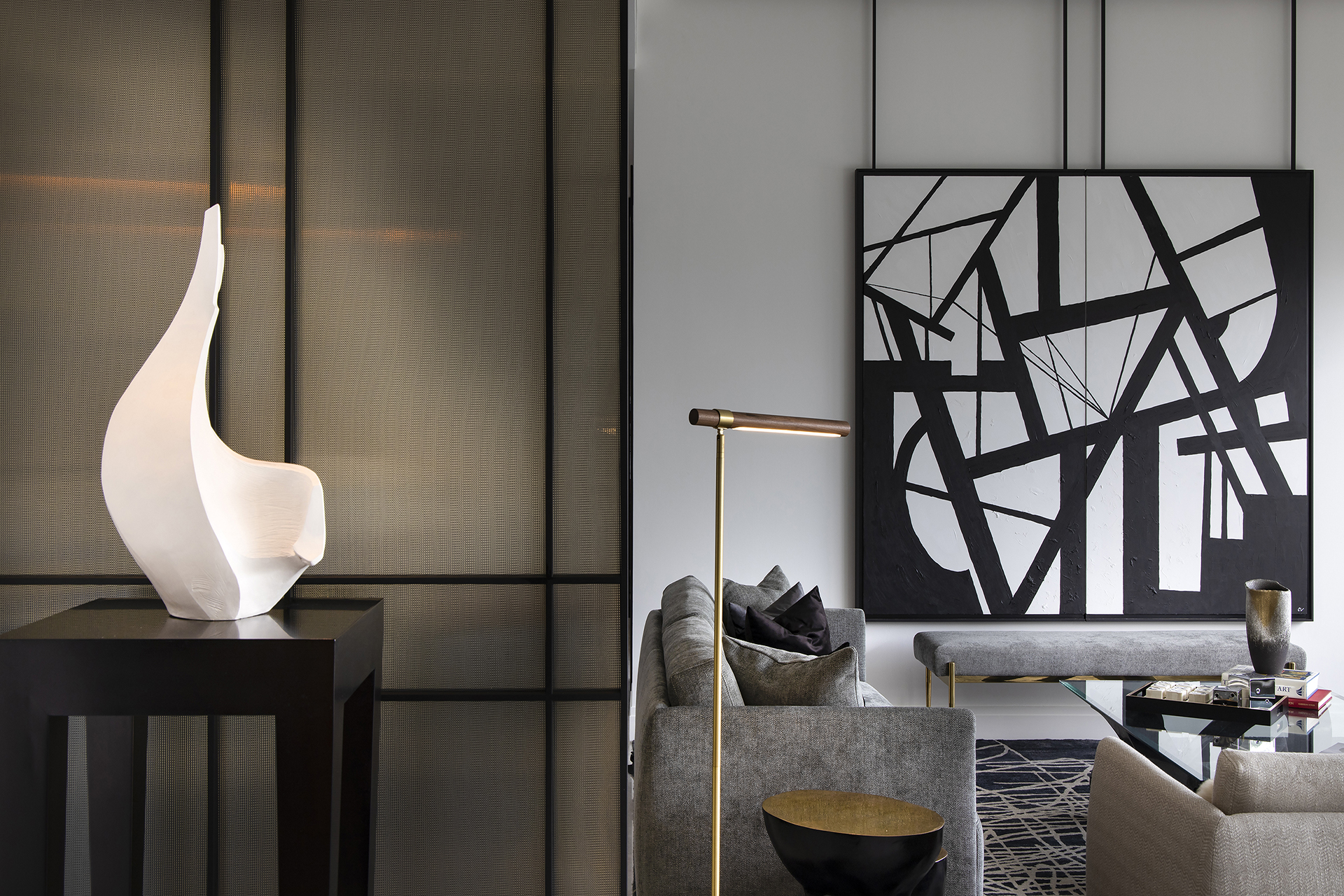 A key to Elliot James Interiors' success is the initial conversations and true understanding and interpretation of each client. Understanding likes, dislikes, "wish lists" and personal style allows the team to create a comprehensive design that reflects the client. This is evident in the traditional, pattern-influenced interiors of The Grange, where maturity and exploration of pattern was a key client requirement, to the fresh, modern look of Ardmore, which called for a contemporary design with simple tones and clean lines. Both residential projects not only showcase the trained eye of the Elliot James Interiors team, but are also true to the owners who will occupy them.
This ability to carry design styles across multiple generations was evident in the recent Cuscaden One and Cuscaden Two projects. Two apartments, one above the other, owned by father and son, were given two very different specifications, united only by a shared desire for a high-end, luxury home. Cuscaden Two's traditional influences required intelligent sourcing by the team, resulting in an exemplary, opulent home with elements of contemporary luxury style, along with a smart floor plan that allows the end user to take full advantage of their space. The use of polished walls, contrasting metals, mirrors and lighting provide an authentic feeling of high-end living. Cuscaden One required the same eye for the unique, but with an edgy twist and focus on group entertaining. Again, the focus was on practical use of space, while continuity of design reinforced cohesion in this large, open apartment. Carefully choreographed soft furnishings added a calming, textural element, while artwork added whimsical punctuation.
Recognizing their expertise in luxury interior design and architectural design, they found themselves able to take on the challenges of café, hotel and restaurant design. Understanding the importance of contract design, its exacting standards and focus on the end-user experience, the team at Elliot James Interiors can take on small projects at one location to extensive resort designs or renovations.
A multicultural, global approach to design has resulted in a forward-thinking, adaptable agency capable of not only creating beautiful design briefs, but also implementing them to a high standard.