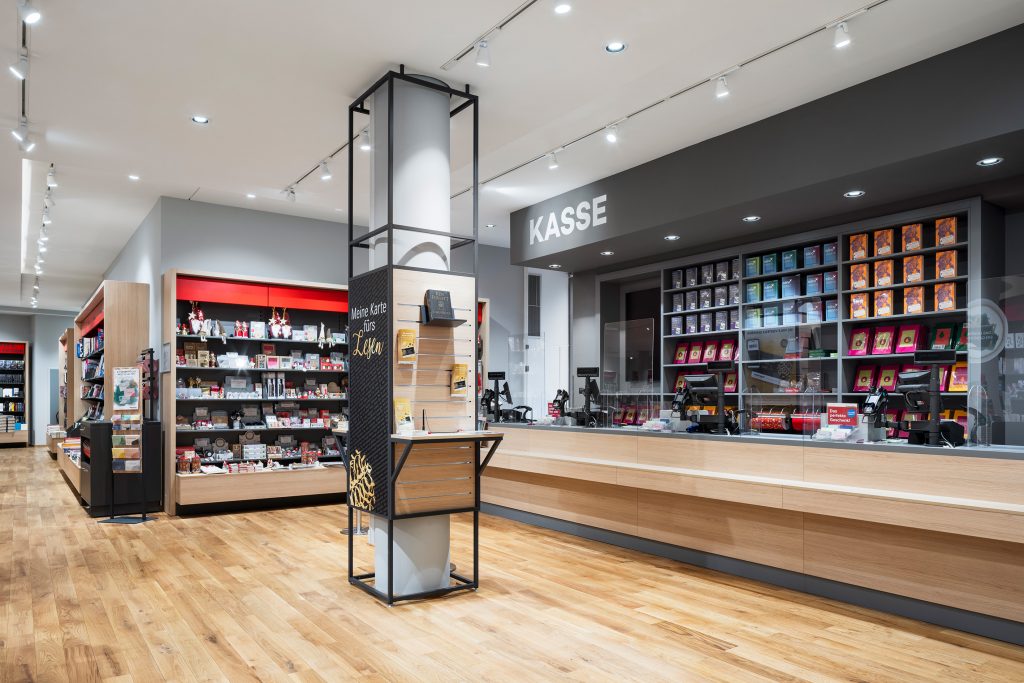 Hugendubel took over the premises of a fashion store in a first-class location at Mauritiusplatz in Wiesbaden's pedestrian zone. The new concept is compact and modern. On 1200 square metres of sales space spread across two floors. The bookstore presents itself clearly, brightly, straightforwardly and homely. An invitation to chill out and read. which is carried through the glazed corner façade to the public space of the city.
The shop concept relies on long shelf walls at the periphery of the space. The open sales areas are broken up by regular highlight areas. Despite the reduced sales area, the retail designers achieved a high density of goods by means of an increased presentation of books at the back. Modularly developed interior furniture made of oak wood and black steel frame individual reading lounges. By this, in each individual department, a varying world of books has been created. A café with seating entices customers to the upper floor.
The contemporary retail lighting concept opts for direct, accentuating light from track and recessed spotlights. The focus is on the lively presentation of the books on offer. The tracks run dynamically through the entire room, giving it depth. The designers chose the compact Ontero XR spotlights with white housings and different light distributions from flood to spot, supported by Intara CX recessed luminaires. In addition, decorative pendant luminaires are used sparingly to highlight room functions such as the café or the cash desk areas.
Project data
Client: H. Hugendubel GmbH & Co. KG
Address: Kirchgasse 47, Wiesbaden
Area: 1200 sqm
Opening: November 2020
Shop fitter: Rochus GmbH, Essen
BÄRO products: Intara CX recessed luminaires, Ontero XR spotlights for tracks